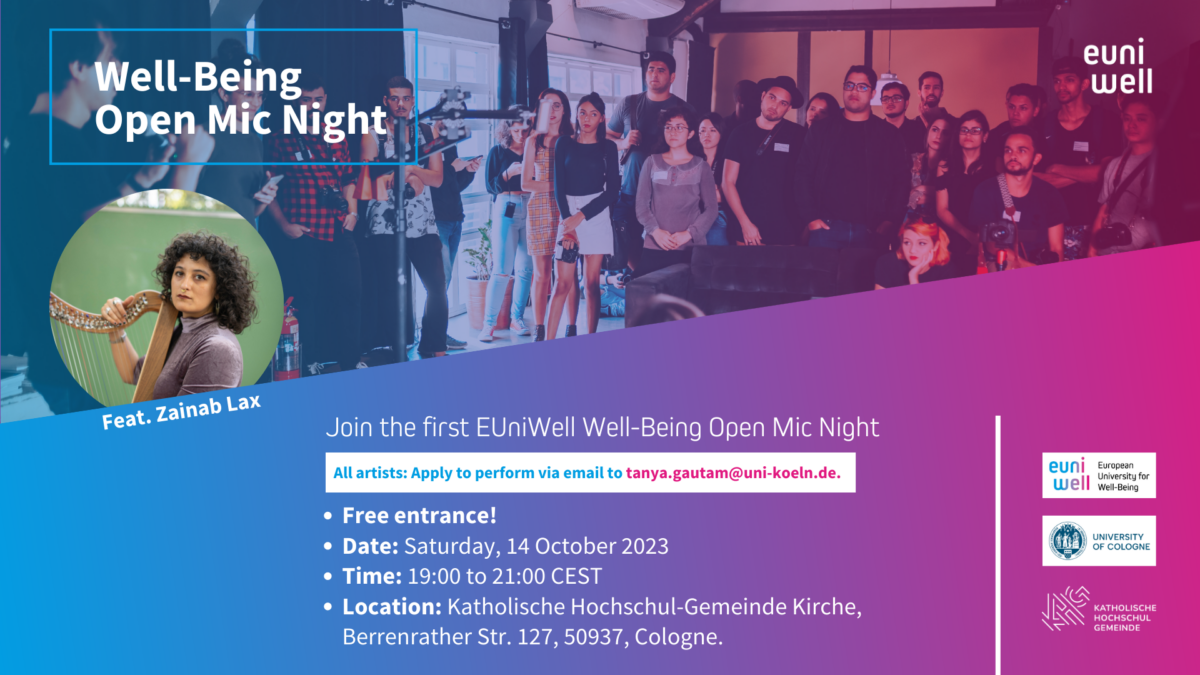 Experience well-being through art at the first Well-Being Open Mic, a student-led EUniWell project. The first session will be hosted by EUniWell students from the University of Cologne on 14 October. If you are a local artist, apply now to perform in this pilot event!
The Well-Being Open Mic is organised by EUniWell students and aims to provide a recurring platform where students from EUniWell member universities and locals can showcase their creative engagement with themes related to individual, social and environmental well-being.
This unique project creates spaces where participants can express their creativity and explore themes of well-being. It's an opportunity to connect with like-minded individuals, share your artistic talents, and be inspired by each other.
Pilot event in Cologne
Date: 14 October 2023
Time: 19:00 CEST – 21:00 CEST
Location: KHG Kirche, Berrenrather Str. 127, 50937 Cologne.
The Well-Being Open Mic will be hosted in English and is open to all age groups and languages. Whether you are a student of the University of Cologne or a local artist, come and join this inaugural event!
We invite you to actively participate in the first Well-Being Open Mic organised by EUniWell students from the University of Cologne. Applications are now open to all students and artists living in Cologne. If you are a poet, musician, storyteller or dancer living in Cologne, apply now to perform during this first session.
Come and be a part of this unique platform, whether you join us as an artist or as a member of the audience. Let's make this evening in Cologne memorable with a diverse range of performances and meaningful artistic expressions of well-being.
Further information
To apply, please send an email to our Student Coordinator Tanya Gautam with the following information :
Name
Genre (Music, Poetry, Dance, Drama, etc.)
Performance Time (max. 15 minutes)
Equipment and Assistance Needs
Links to previous works and social media
The event takes place in English.
Contact: